Description:
You do not want to choose between the flexibility of the digital world and the warmth, definition and dynamic of analog technology: the AudioTouch concept allows you to have the best of both worlds.
AudioTouch offers a digitally controlled true analog audio device with an innovative design and a very high-level handcrafted construction.
With incredible setting combinations, the possibility to save settings in several memories and the control by 'plugin', the C-Buss is the first of a new generation of audio gear.
The C-Buss unit is intended for use in stereo/buss compression treatment: drums, brass… etc

Main features:
• Optimal audio path with carefully selected components for the best sound quality
• Balanced transformer-like IN and OUT circuits with very high CMRR
• Ergonomic user interface "an@touch"
• Inputs : Vu-meters 5Leds
• Outputs : Vu-meters 5Leds
• Gain reduction (GR): Vu-meter 10Leds
• Attack (0.01, 0.03, 0.1, 0.3, 1, 3, 10, 30 ms)
• Ratio (1.5, 2, 4, 6, 8, 10, + limiteur)
• Release (0.05, 0.1, 0.2, 0.3, 0.4, 0.6, 0.9, 1.2 s + auto)
• Dyness (Off, L1, L2, L3): 3 levels
• Mix (wet / dry): 9 levels
• Dyness: equalisation on internal sidechain + 'isosonic' mode: based on human hearing perception ("equal-loudness contours")
• External sidechain: stereo balanced inputs
• Vintage Mode: feedback-mode compression and addition of audio transformers
• Hard Bypass (bypass when power off)
• 21 user memories
• Fully controllable with PC/Mac software integrated (plug-in provided, format VST/RTAS/AAX/AU)
• User friendly presets management with universal exchange (easy to share)
Connections:
• XLR stereo inputs
• XLR stereo outputs
• XLR stereo inputs for external sidechain
• MIDI IN et OUT/THRU (with MIDI number selection)
• Power supply (115-230 volts compatible)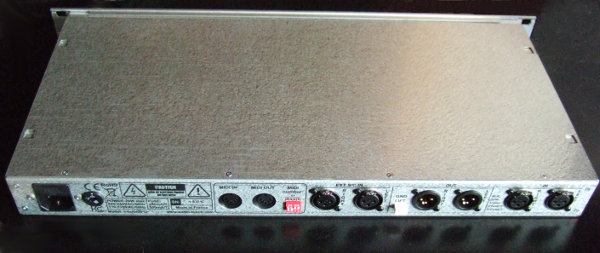 Specifications:
• Jensen/That Balanced IN and OUT
• High CMRR Input: > 85 dB
• Freq. réponse (-3dB): 10Hz - 90kHz
• Max. Input Level: + 21 dBu
• Max. Output Level: + 21dBu / 600Ω
• Consommation: max. 20 Watts
• Dimensions: 19" - 1U - 220mm depth
CONTACT-US TO ORDER THE COMPRESSOR C-Buss
(Retail price: 2490€ HT / 2988€ TTC)